Job
Concept design specialist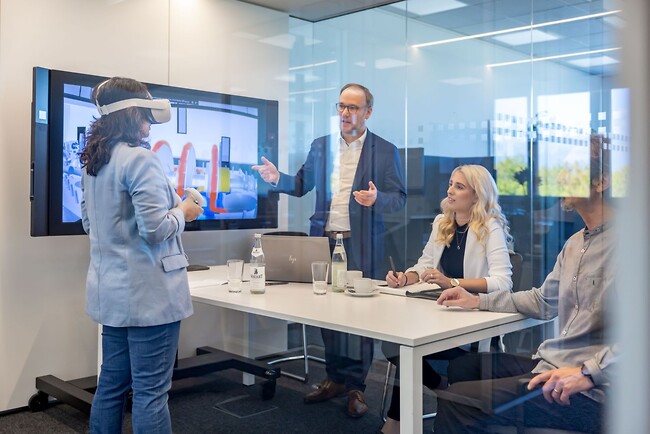 Power hydraulics design expert for future fuel injection systems
Ansøgningsfrist
Løbende optagelse
Forventet start
Hurtigst muligt
Arbejdssted
Danmark Sjælland
At MAN Energy Solutions, our sights are clearly set on taking on the big challenges of climate change. It's what we call Moving Big Things To Zero.
We offer a portfolio of pioneering technologies that contribute to a carbon-neutral world: In the maritime sector, this means developing and providing the technology that will enable global shipping to be powered by bio-fuels and carbon-neutral fuels such as methanol and ammonia that have been derived from renewable energy sources.
As a direct consequence of our strategic goals, we are boosting and restructuring the hydraulics and fuel injection functional area of R&D for marine two-stroke engines. If you want to help us moving big things to zero and make a real difference in the decarbonization of the shipping industry, contributing as expert in development of Hydraulics and Fuel Injection equipment might be the perfect next step for you.
We are looking for an Mechanical Engineer preferably with experience from R&D, who has the skill and motivation to drive the development of on-engine power hydraulics components and systems for exhaust valve actuation and fuel injection within our l arge portfolio of MAN B&W two-stroke engines. Together with a multi-disciplinary team of experts within development and engineering you will make sure that new technology is transformed in to solid and verified design concepts, that is well documented so our engineering departments can apply the technology on our engines.
You'll will play an important role in:
You:
Take active part in the ideation process, concept development and the transformation of functional requirements to implementation of specific design features.
Create well documented design concepts for hydraulic components or systems, including CAD of prototypes or test components.
Specify verification tests, reports results and translates the learnings together with service experience to necessary adjustments of concept.
Prepare design manuals/guidelines and communicate these to our engineering departments who makes the final design for our production engines.
Follow testing of new components either at our test rigs in Copenhagen or at our licensees in Asia.
Work primarily in our head office in Copenhagen, however, 10-30 travel days per year typically in either Europe or Asia may occur.
We imagine that you:
Master one or more of the following areas, preferably on a specialist level: Mechanical mechanism design, tolerance analysis, sealing technology, component design for high temperature applications.
Are highly skilled in clear and concise technical writing. You are able to clearly identify most important points and accurately describe them.
Are good at building up and maintaining good and trustful professional relationships with many and diverse stakeholders. Can confidently present your work at a level adapted to the audience.
Are a team player and good at both understanding the relevance of a task or problem in the context of an organization and the final product
Have a M.Sc,/Ph.D. degree or equivalent specialist skills from experience in Mechanical Eng.
Preferably have industry experience in the design of hydraulic components, associated control components and the integration in hydraulic systems.
Welcome to Hydraulics and Fuel Injection Concepts
You will join the Hydraulics and Fuel Injection Concepts department within the functional area Hydraulics and Injection Development of two-stroke R&D. We are responsible for developing fuel injection/admission concepts and design prototypes for fuel equipment, hydraulic components and systems. Together with our colleagues within the functional area, we analyze structural and thermal loads on our components, we run simulations of both injection and combustion and conduct tests on both test rigs and real engines to validate new concepts and designs.
We are collaborating with a wide range of departments within and outside R&D on a variety of tasks and projects. The working atmosphere is relaxed and all are committed to succeed as a team by being supportive, flexible and share knowledge and experience. There is space for creativity and to play with new ideas.
Join us towards a carbon-neutral future
We offers you a chance to help shape the world of tomorrow – whether you're just starting out, taking your first career step after graduation or looking for the next big career challenge.
At MAN Energy Solutions, we focus on diversity and equality to create a creative and inclusive culture. We believe that a diverse workforce, with a mix of gender, nationalities, and perspectives, drives innovation, creativity, and productivity. We are committed to our employees' well-being, and you will have the opportunity to join different social activities clubs from yoga and fishing clubs to creative clubs.
We prioritize work life balance with possibilities for flexible working hours, home office, and mental well-being (health insurance, focus on work atmosphere). Here you have opportunities for growth, development and mentorship.
At MAN Energy Solutions you can create, drive, build, and be a part of improving innovative energy solutions while achieving your personal career goals.
About MAN Energy Solutions
250 years of experience in advanced engineering
We deliver a unique portfolio of technologies and opportunities in the development of engines for use on ships and in power plants across the globe.
We work on the motto "Future in The Making", because we make a virtue out of creating sustainable solutions and contribute to a carbon neutral economy.
We have over 15,000 employees worldwide. In Denmark, we are 2,200 passionate employees with more than 40 nationalities.
Copenhagen head office is centre of R&D and Engineering for two-stroke engines of the MAN B&W brand.